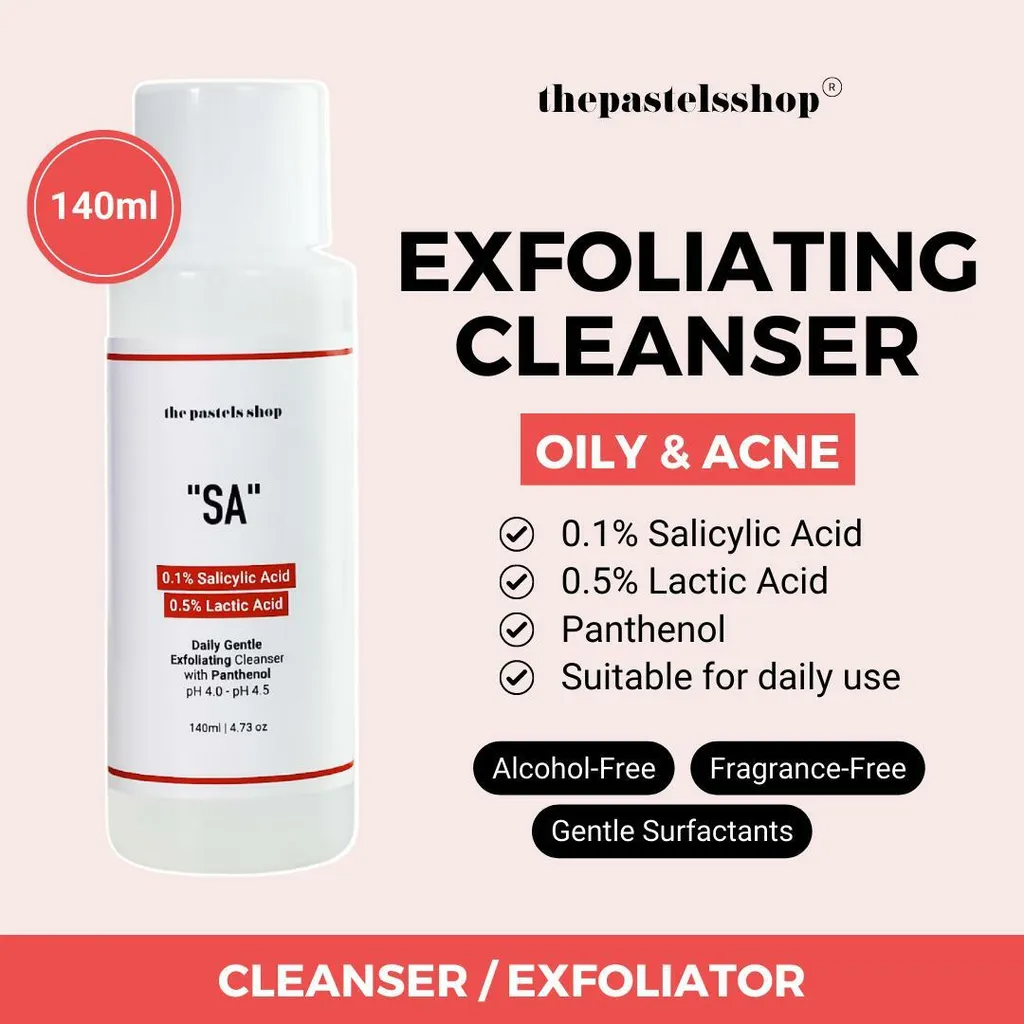 Unveil your skin's natural radiance with THE PASTELS SHOP "SA" Cleanser, available in three convenient sizes (35ml, 140ml, and 300ml). This transformative cleanser is formulated with 0.1% Salicylic Acid and 0.5% Lactic Acid, offering a gentle yet effective exfoliation and deep cleansing experience. It helps to unclog pores, combat acne, and leave your skin looking fresh and revitalized.
Salicylic Acid Power: "SA" Cleanser contains 0.1% Salicylic Acid, a beta-hydroxy acid (BHA) known for its ability to exfoliate the skin's surface and penetrate deep into pores to remove excess oil and debris.
Lactic Acid Exfoliation: With 0.5% Lactic Acid, a gentle alpha-hydroxy acid (AHA), this cleanser provides additional exfoliation to promote a smoother and more radiant complexion.
Deep Cleansing: The combination of Salicylic Acid and Lactic Acid effectively unclogs pores, helping to reduce the appearance of blackheads and whiteheads while preventing breakouts.
Gentle and Non-Drying: Despite its exfoliating properties, "SA" Cleanser is formulated to be gentle on the skin, ensuring that it doesn't leave your skin feeling dry or tight.
Refreshing and Revitalizing: Enjoy a refreshing cleanse that revitalizes your skin, leaving it looking fresh and rejuvenated.
Suitable for Oily and Acne-Prone Skin: This cleanser is ideal for those with oily or acne-prone skin types but can be used by anyone looking to improve their skin's texture and clarity.
Three Convenient Sizes: Choose the size that fits your needs – 35ml for travel or trial, 140ml for regular use, or 300ml for long-lasting freshness.
Paraben-Free: We prioritize your skin's well-being, and "SA" Cleanser is free from harmful parabens.