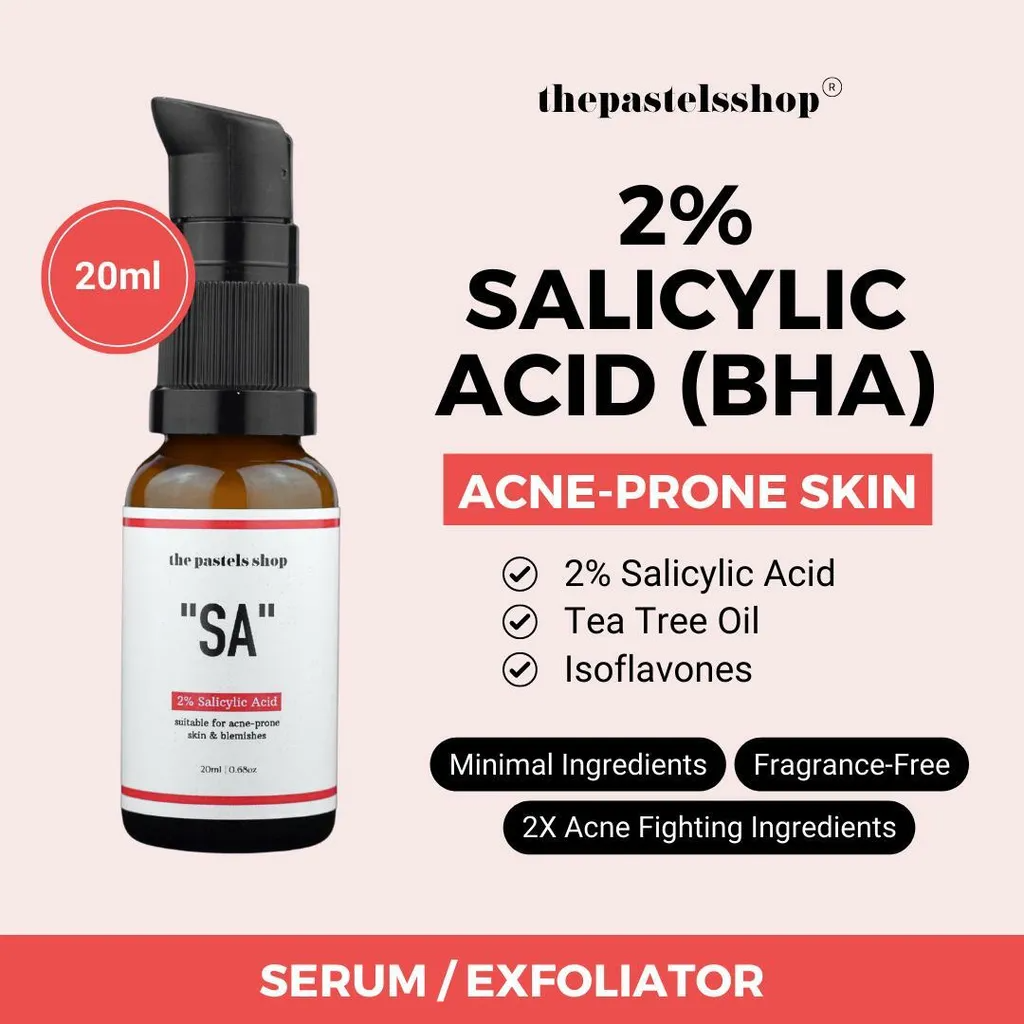 Introducing THE PASTELS SHOP "SA" 2% Salicylic Acid Serum – Your Skin's Solution for Clarity and Smoothness.
The Pastels Shop 2% Salicylic Acid is a fast-absorbing, shine-free acne treatment to reduce clogged pores and prevent blemishes. Supporting ingredients such as Glycine Soja contains Isoflavone that helps fade stubborn discolorations.
Its also helps:
Deeply clean excess oil out of pores and control oil production
Treat acne and prevent blemishes
Reduce and fade skin discolorations due to post acne treatment
Precautions: Keep out of reach of children. Patch testing prior to use is advised. If irritation occurs, cease use and immediately consult a physician.
Uncover your skin's true potential with THE PASTELS SHOP "SA" 2% Salicylic Acid Serum. This powerful yet gentle serum is formulated to target and improve various skin concerns, including acne, clogged pores, and uneven texture. Elevate your skincare routine with this essential product for a clearer, smoother complexion.
Targeted Salicylic Acid: Our serum features a potent 2% concentration of Salicylic Acid (BHA), a beta hydroxy acid renowned for its ability to penetrate the pores and exfoliate the skin's surface. It effectively unclogs pores and helps prevent breakouts.
Skin Clarity: Say goodbye to blemishes, blackheads, and whiteheads as Salicylic Acid works to exfoliate dead skin cells and reduce the appearance of imperfections, leaving your skin looking clearer and more even.
Smoother Texture: Enjoy smoother, refined skin texture as Salicylic Acid encourages the shedding of dead skin cells, revealing a fresher, more radiant complexion.
Oil Control: This serum helps regulate excess oil production, making it an excellent choice for individuals with oily or combination skin.
Suitable for Acne-Prone Skin: "SA" Serum is specially designed for acne-prone skin and is non-comedogenic, meaning it won't clog your pores.
Versatile Application: Use this serum as a spot treatment for individual blemishes or apply it to larger areas of concern. Incorporate it into your daily or weekly skincare routine, depending on your skin's needs.
Cruelty-Free: We prioritize ethical beauty practices, and our serum is cruelty-free, ensuring no harm to animals during its production.