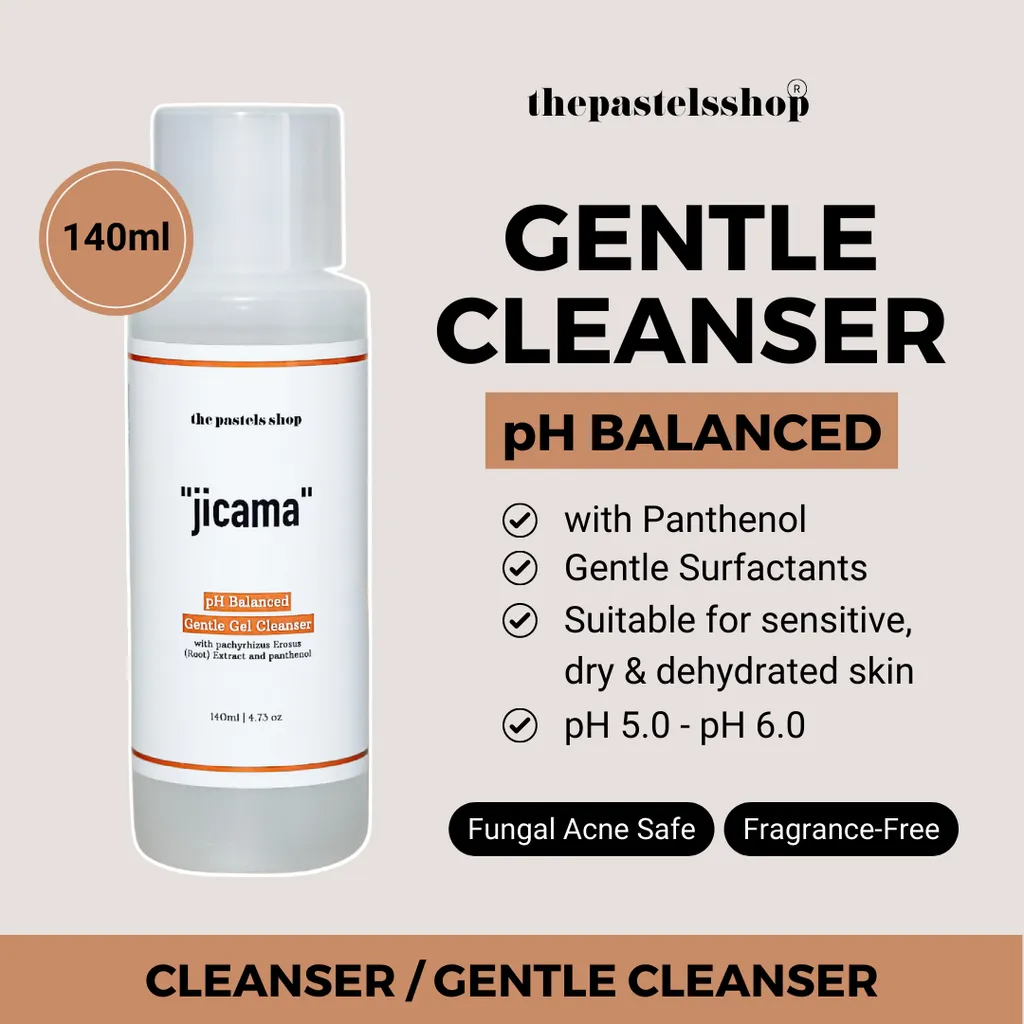 IMPORTANT NOTE!
As the texture of the JICAMA Gel Cleanser is slightly thicker, please remove the stopper before using to ease dispensing the product. The stopper is used to prevent leakage during delivery process.
A gel-to-foam-pH-balanced cleanser with unique combination of 4 undeniably mild Surfactant - Cocamidopropyl Betaine, Potassium Cocoyl Glycinate, Potassium Cocoate and Sodium Lauroyl Sarcosinate. The highlight is this rare ingredient which is Pachyrrhizus Erosus (Root) Extract as known as Sengkuang in local community or Jicama by many. Rich in Vitamin C and B, it brightens skin effectively with its antioxidant ability. Witch hazel is used to remove excess oil that can be seen in acne-prone skin. It is rich with tannins, which act as a natural astringent on the skin that can help to sop up excess oil & reduce pores visibilities. The balance between Gentle & Deep Cleansing power in this Jicama Cleanser is truly one of a kind.
pH Balanced Formula: "JICAMA" Gentle Gel Cleanser is thoughtfully formulated to match the natural pH of your skin, ensuring a gentle cleanse that won't disrupt your skin's delicate balance.
Gentle Cleansing: This gel-based cleanser effectively removes dirt, oil, and impurities without stripping your skin's natural moisture, making it ideal for daily use.
Refreshing Cleanse: Enjoy a refreshing and revitalizing cleanse that leaves your skin feeling fresh, soft, and ready for your skincare routine.
Suitable for All Skin Types: Whether you have oily, dry, sensitive, or combination skin, "JICAMA" Gentle Gel Cleanser is designed to cater to all skin types.
Versatile Sizes: Choose between the 35ml size for travel and on-the-go use or the 140ml size for your daily skincare routine.
Cruelty-Free: We believe in ethical beauty practices, and our cleanser is cruelty-free, ensuring no harm to animals during its production.