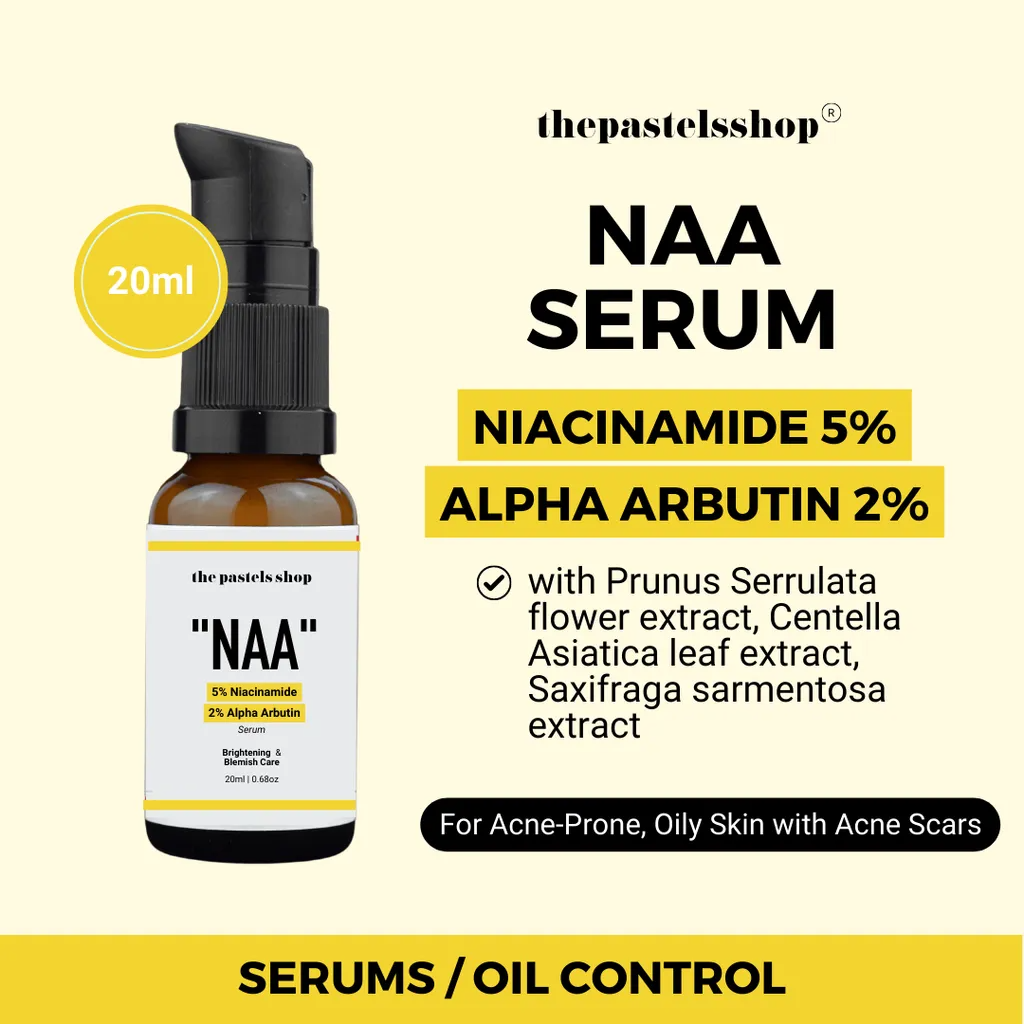 Introducing THE PASTELS SHOP "NAA" 5% Niacinamide + 2% Alpha Arbutin Serum – Your Path to Brighter and More Even Skin.
The Pastels Shop NAA 5% Niacinamide + 2% Alpha Arbutin Serum is a super versatile serum. It also contains Prunus serrulata flower extract to tone down pigmentation, blemishes and redness effectively.
It also helps :
Regulate sebum production
Blemish control & anti-inflammatory
Reduce and fade skin discolorations
Skin brightening function
Experience the transformation of your skin with THE PASTELS SHOP "NAA" 5% Niacinamide + 2% Alpha Arbutin Serum. This powerful and compact 20ml serum is designed to target uneven skin tone, dark spots, and blemishes, while also promoting a smoother, brighter complexion. Elevate your skincare routine with this dynamic duo of ingredients.
Niacinamide Powerhouse: "NAA" Serum boasts a potent 5% Niacinamide (Vitamin B3) concentration known for its ability to improve the appearance of enlarged pores, fine lines, and overall skin texture.
Alpha Arbutin Brightening: Formulated with 2% Alpha Arbutin, this serum targets hyperpigmentation, dark spots, and uneven skin tone, helping you achieve a brighter and more radiant complexion.
Even Skin Tone: Regular use of this serum can help minimize the appearance of sunspots, age spots, and post-inflammatory hyperpigmentation, promoting a more even skin tone.
Hydration and Moisture: Niacinamide helps maintain your skin's natural moisture barrier, keeping it hydrated and reducing the risk of dryness or flakiness.
Lightweight and Absorbent: The serum has a lightweight, non-greasy texture that quickly absorbs into your skin. It's suitable for all skin types and can be used day and night.
Versatile Size: The compact 20ml size is perfect for trial or travel, allowing you to experience the benefits of "NAA" Serum wherever you go.
Cruelty-Free and Paraben-Free: We prioritize ethical beauty practices. Our serum is cruelty-free and free from harmful parabens.