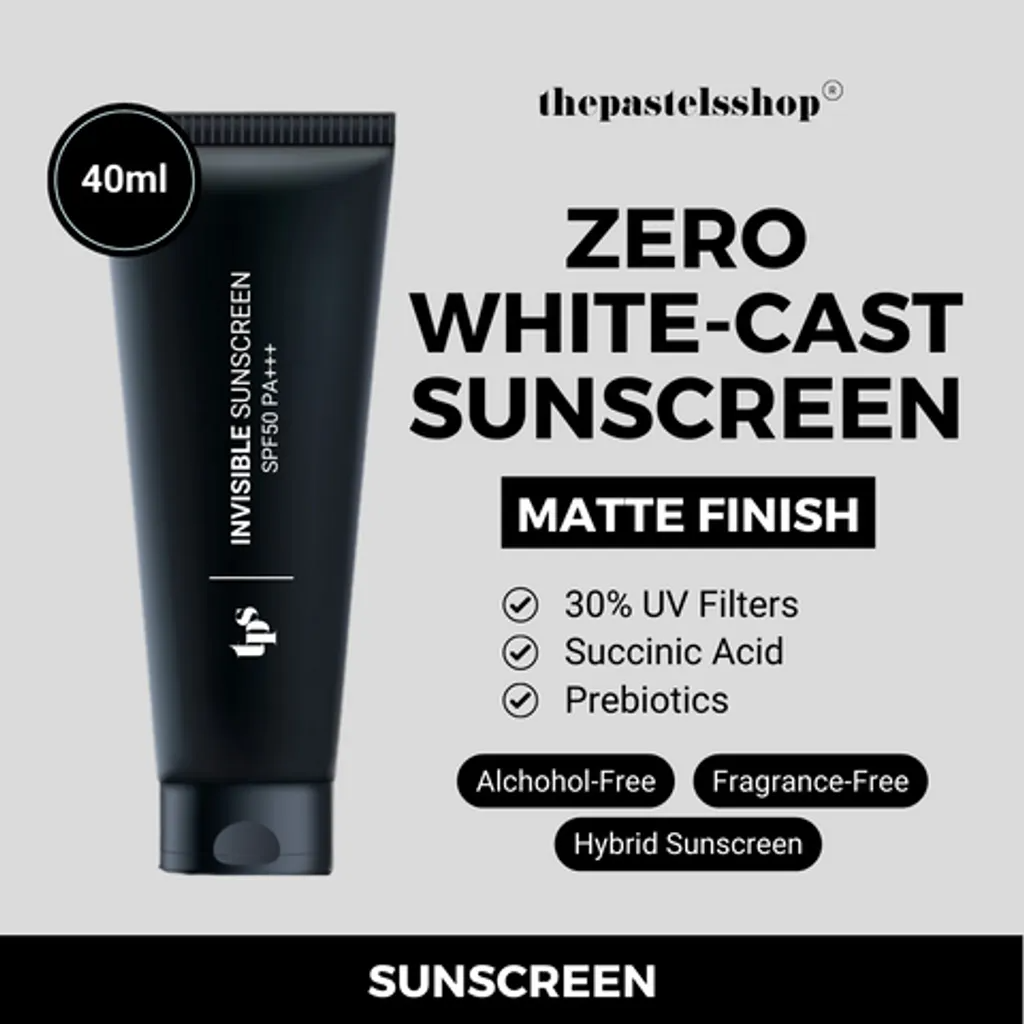 Introducing The Pastels Shop Invisible Sunscreen SPF50 PA++++ - Your Ultimate Sun Protection Solution
Shield your skin from harmful UV rays with The Pastels Shop Invisible Sunscreen SPF50 PA++++. This water-based sunscreen is your go-to defense against the sun's damaging effects. With a high SPF50 rating and a PA++++ rating, it offers broad-spectrum protection, guarding your skin against UVA and UVB rays while keeping it hydrated and looking radiant.
High SPF50 Protection: This sunscreen provides a robust SPF50 shield, offering powerful protection against the sun's harmful UVB rays. It helps prevent sunburn and reduces the risk of skin damage caused by UV exposure.
PA++++ Rating: Our sunscreen also boasts a PA++++ rating, which means it effectively shields your skin from UVA rays. UVA rays can cause premature aging and contribute to the development of fine lines and wrinkles.
Invisible Formula: Say goodbye to the white, sticky residue left by some sunscreens. The Pastels Shop Invisible Sunscreen goes on smoothly and dries clear, leaving your skin looking and feeling natural.
Water-Based Formula: Our unique water-based formula ensures lightweight, non-greasy application. It's suitable for all skin types, including sensitive skin, and won't clog pores.
Hydration Boost: Formulated with hydrating ingredients, this sunscreen not only protects your skin but also keeps it moisturized throughout the day. Say hello to a dewy and refreshed complexion.
Suitable for Everyday Use: Whether you're heading to the beach, spending time outdoors, or simply running errands, this sunscreen is the perfect daily companion to shield your skin from UV damage.
Fragrance-Free and Non-Irritating: We understand the importance of gentle skincare. Our fragrance-free formula is gentle on your skin and doesn't cause irritation, making it suitable for even the most sensitive skin types.
Protect your skin from the sun's harmful rays and maintain a youthful, healthy complexion with The Pastels Shop Invisible Sunscreen SPF50 PA++++. Enjoy invisible, lightweight, and hydrating sun protection every day.
Note: Please perform a patch test before using the product, especially if you have sensitive skin or allergies. If irritation occurs, discontinue use and consult a dermatologist. Avoid contact with eyes. For external use only. Keep out of reach of children. Store in a cool, dry place away from direct sunlight.