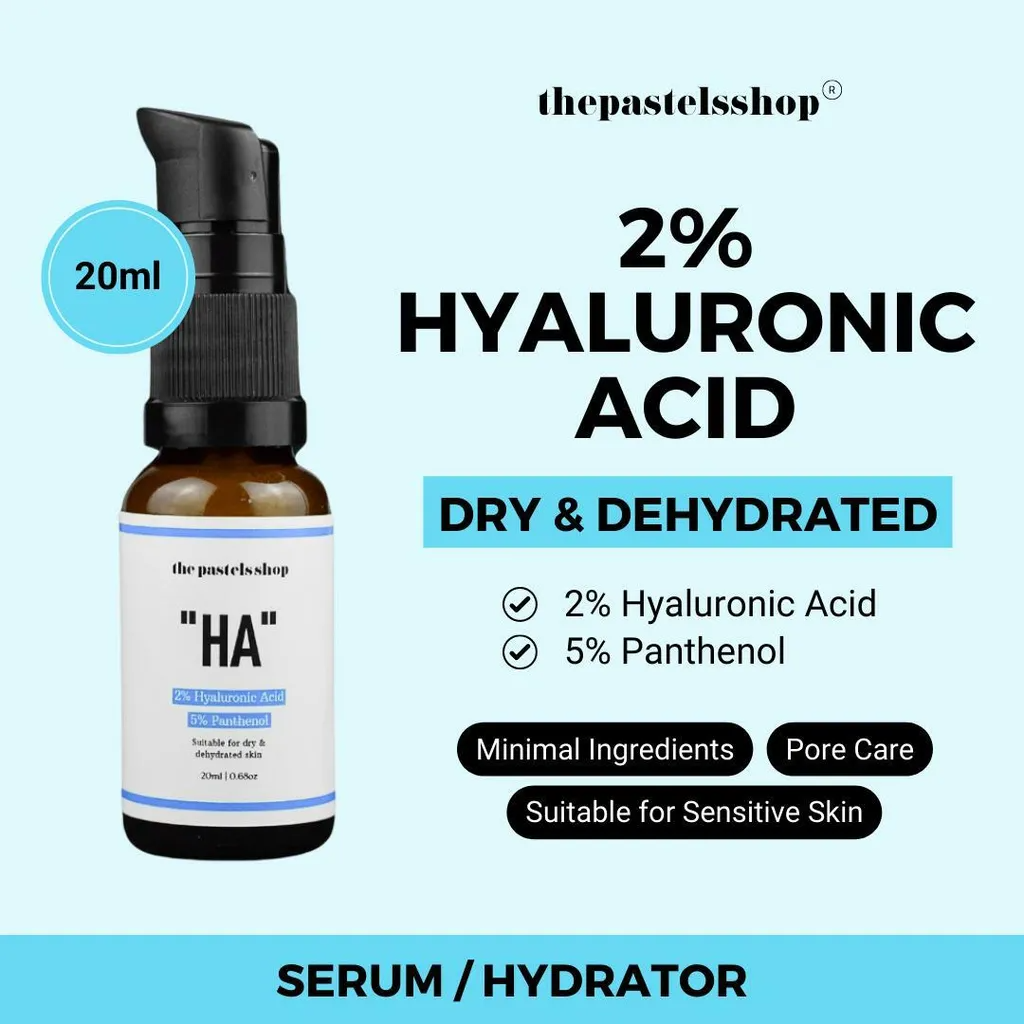 Introducing THE PASTELS SHOP "HA" 2% Hyaluronic Acid + 5% Panthenol Serum – Your Hydration and Skin Health Solution
Unveil healthier, more hydrated skin with THE PASTELS SHOP "HA" 2% Hyaluronic Acid + 5% Panthenol Serum. This luxurious serum is formulated to replenish moisture, enhance skin elasticity, and promote a youthful complexion. With the perfect blend of Hyaluronic Acid and Panthenol, it's your key to radiant and revitalized skin.
Hyaluronic Acid Boost: Our serum contains a potent 2% concentration of Hyaluronic Acid, a natural substance that attracts and retains moisture. It quenches your skin's thirst, providing deep hydration from within.
Panthenol Nourishment: Enriched with 5% Panthenol (Vitamin B5), this serum soothes and nourishes your skin. Panthenol is known for its ability to promote skin repair, making it ideal for calming irritation and supporting a healthy skin barrier.
Intense Hydration: Experience an instant surge of hydration as the serum locks in moisture, helping to plump and soften your skin. Say goodbye to dryness, flakiness, and dullness.
Improved Skin Elasticity: With regular use, the serum enhances skin elasticity, helping to reduce the appearance of fine lines and wrinkles. Enjoy a firmer, more youthful complexion.
Lightweight and Absorbent: The serum has a lightweight, non-greasy texture that quickly absorbs into your skin. It's suitable for all skin types, including sensitive skin, and can be used day and night.
Versatile Application: Use this serum as a part of your daily skincare routine, applying it after cleansing and before moisturizing. It can also be used as a makeup base for a smooth, hydrated canvas.
Cruelty-Free and Paraben-Free: We prioritize the well-being of your skin and the environment. Our serum is cruelty-free and free from harmful parabens.
Experience the ultimate hydration and skin health benefits with THE PASTELS SHOP "HA" 2% Hyaluronic Acid + 5% Panthenol Serum. Reveal a radiant, youthful complexion that feels soft, supple, and revitalized.
Note: Perform a patch test before using the product, especially if you have sensitive skin or allergies. If irritation occurs, discontinue use and consult a dermatologist. Avoid contact with eyes. For external use only. Keep out of reach of children. Store in a cool, dry place away from direct sunlight.