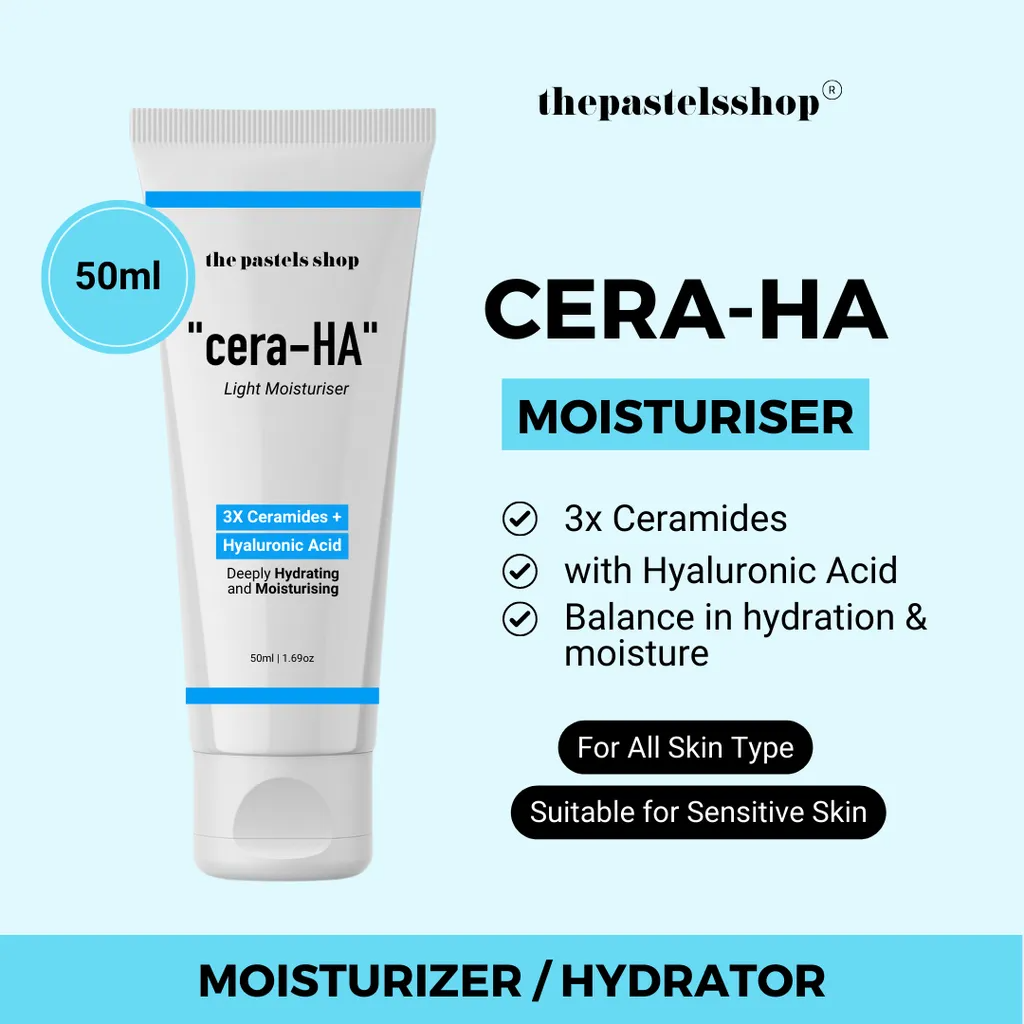 Introducing THE PASTELS SHOP "Cera-HA" Moisturizer 50ml – Your Ultimate Skin Hydration and Barrier Support.
THE PASTELS SHOP "cera-HA" 3X Ceramides + Hyaluronic Acid Moisturiser is a perfectly balanced formulation for all skin types. A combination of Humectants, soothing properties such as Centella Asiatica, and barrier repair ingredient - 3x Ceramides. A well-formulated moisturizer to cater to your skin's needs.
Ceramide Boost: "Cera-HA" Moisturizer is enriched with Ceramide NP, Ceramide AP, and Ceramide EOP – essential components of your skin's natural barrier. These ceramides help restore and strengthen your skin's protective layer, preventing moisture loss and enhancing its overall health.
Intense Hydration: Infused with Sodium Hyaluronate (hyaluronic acid), this moisturizer provides deep, long-lasting hydration, helping to plump and hydrate your skin from within. Say goodbye to dryness and dullness.
Skin-Calming Formula: Featuring Centella Asiatica Leaf Extract and Allantoin, this moisturizer soothes and calms irritated or sensitive skin, reducing redness and discomfort.
Squalane and Rice Bran Oil: These nourishing ingredients help lock in moisture and create a silky-smooth texture, leaving your skin feeling velvety soft and looking radiant.
Suitable for All Skin Types: "Cera-HA" Moisturizer is gentle and suitable for all skin types, including sensitive and dry skin. It's free from harsh chemicals and fragrances that can irritate your skin.
Lightweight and Absorbent: The moisturizer has a lightweight, non-greasy texture that quickly absorbs into your skin, making it suitable for daily use, morning and night.
Cruelty-Free and Ethical: We prioritize ethical beauty practices, and our moisturizer is cruelty-free, ensuring no harm to animals during its production.