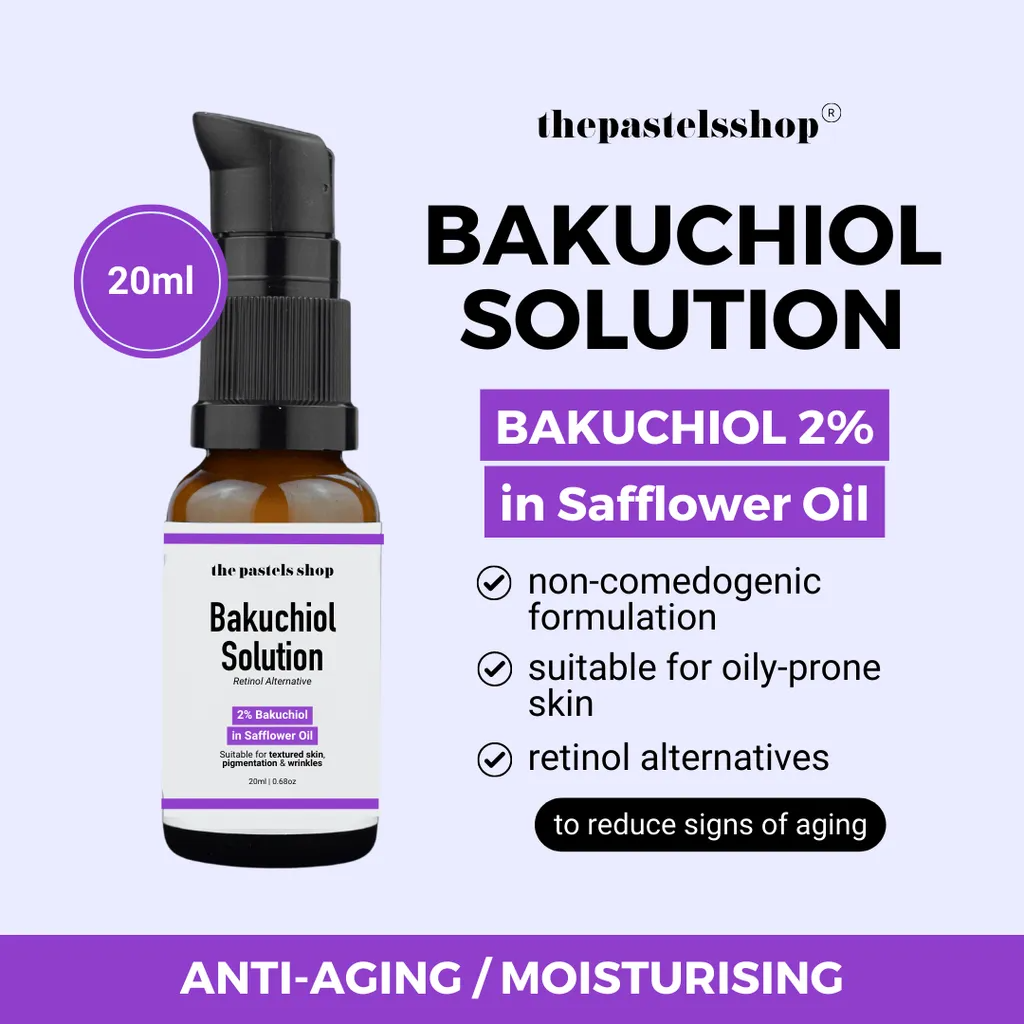 Introducing THE PASTELS SHOP Bakuchiol Solution Retinol Alternative – Your Path to Youthful Skin Without the Sensitivity.
The Pastels Shop Bakuchiol Solution is a more tolerable alternative to retinol. It is formulated with Safflower Oil that has 0 Comedogenic Level, super lightweight with skin-soothing properties. This Bakuchiol Solution can help soften fine lines and wrinkles, even skin tone, improve elasticity and firmness.
Discover the power of age-defying skincare with THE PASTELS SHOP Bakuchiol Solution Retinol Alternative. This 20ml bottle holds the secret to youthful and radiant skin without the potential sensitivity of traditional retinol. Bakuchiol, a natural plant extract, is the star ingredient that helps reduce the appearance of fine lines, wrinkles, and uneven skin tone, while maintaining the health of your skin.
Natural Retinol Alternative: Bakuchiol, derived from the Bakuchi plant, mimics the effects of retinol without the potential irritation and sensitivity. It's a gentle yet effective way to address the signs of aging.
Smoother, Youthful Skin: Regular use of Bakuchiol can help improve skin texture, reduce the appearance of fine lines and wrinkles, and promote a more youthful complexion.
Enhanced Skin Radiance: This solution helps even out skin tone and brighten your complexion, giving you a radiant and healthy glow.
Hydration and Nourishment: Infused with hydrating ingredients, Bakuchiol Solution ensures your skin remains moisturized and nourished throughout your skincare routine.
Suitable for All Skin Types: This retinol alternative is well-tolerated by various skin types, including sensitive skin, making it an excellent choice for anyone looking to revitalize their skincare routine.
Versatile Application: Use this solution as part of your nightly skincare routine, applying it after cleansing and toning. Follow with your preferred moisturizer.
Cruelty-Free: We are committed to ethical beauty practices, and our Bakuchiol Solution is cruelty-free, ensuring no harm to animals during its production.