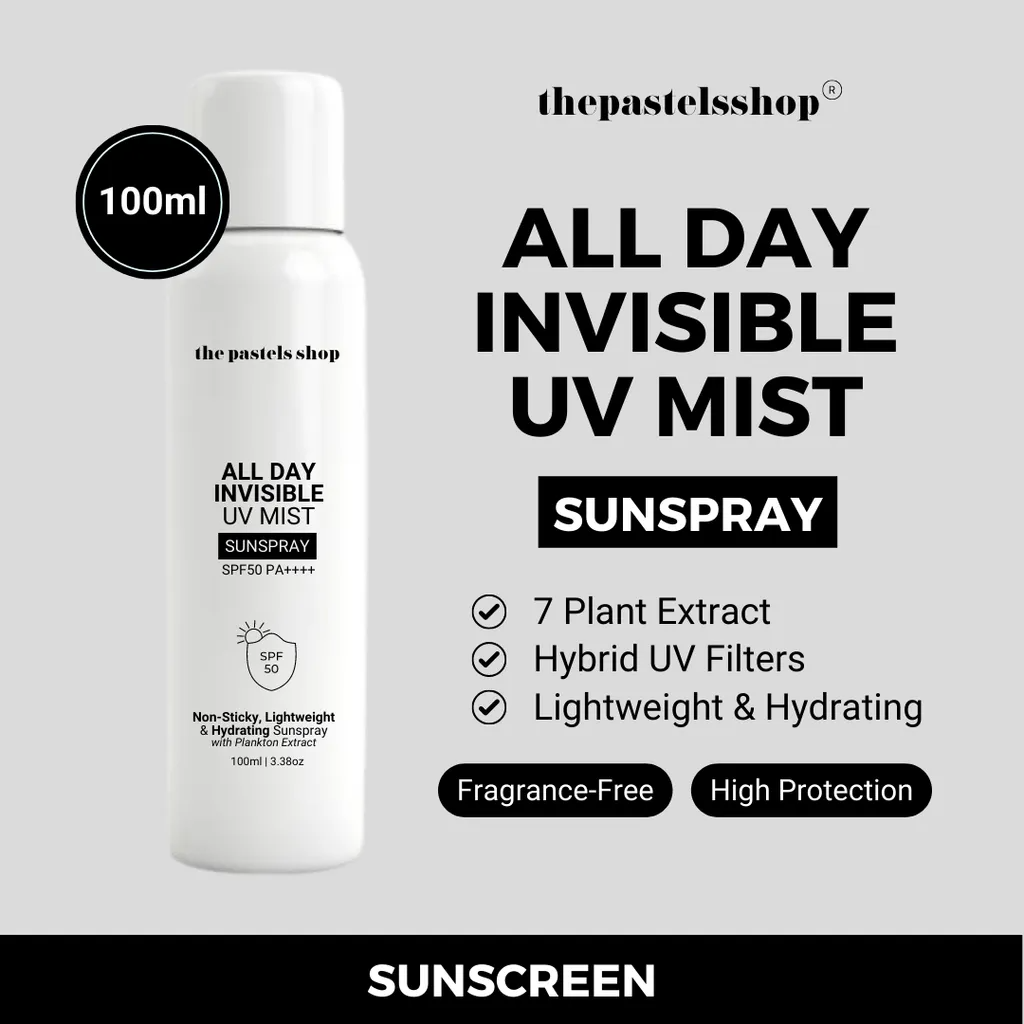 Introducing THE PASTELS SHOP All Day Invisible UV Mist (Sunspray) SPF50 PA++++ – Your Daily Defense Against Harmful UV Rays.
Giving your skin high performance protection for all outdoor activities. This super-fine design sunscreen delivers UV protection with SPF50 to guard against harmful UVA, UVB rays and other daily aggressors. A non-sticky sunscreen infused with premium formulation, absorbs quickly into the skin, delivering long-lasting moisture to reinforce skin's natural lipid barrier. Leaves your skin with superior protection and restoration without leaving any greasy or sticky residue.
High SPF50 Protection: Our sunspray boasts a powerful SPF50 rating, offering superior protection against UVB rays to help prevent sunburn and long-term skin damage.
PA++++ Rating: With a top-tier PA++++ rating, it effectively guards your skin against UVA rays, which are responsible for premature aging and skin damage.
Invisible and Non-Greasy: The ultra-fine mist is virtually invisible and non-greasy, making it ideal for daily use. Say goodbye to heavy, sticky sunscreen.
Convenient Application: The mist format ensures easy and even application, allowing you to protect hard-to-reach areas and reapply throughout the day.
Water-Resistant: Enjoy protection even during water activities. Our sunspray is water-resistant, but we recommend reapplying after swimming or heavy sweating for continued effectiveness.
Antioxidant-Rich: Enriched with antioxidants, including Plankton Extract and Sunflower Seed Oil, it helps protect your skin from environmental stressors, leaving it looking fresh and youthful.
Skin-Nourishing Ingredients: Our formula includes skin-loving ingredients like Ginseng Root Extract, Apple Juice, Peach Juice, and Wheat Seed Extract to provide additional skincare benefits.