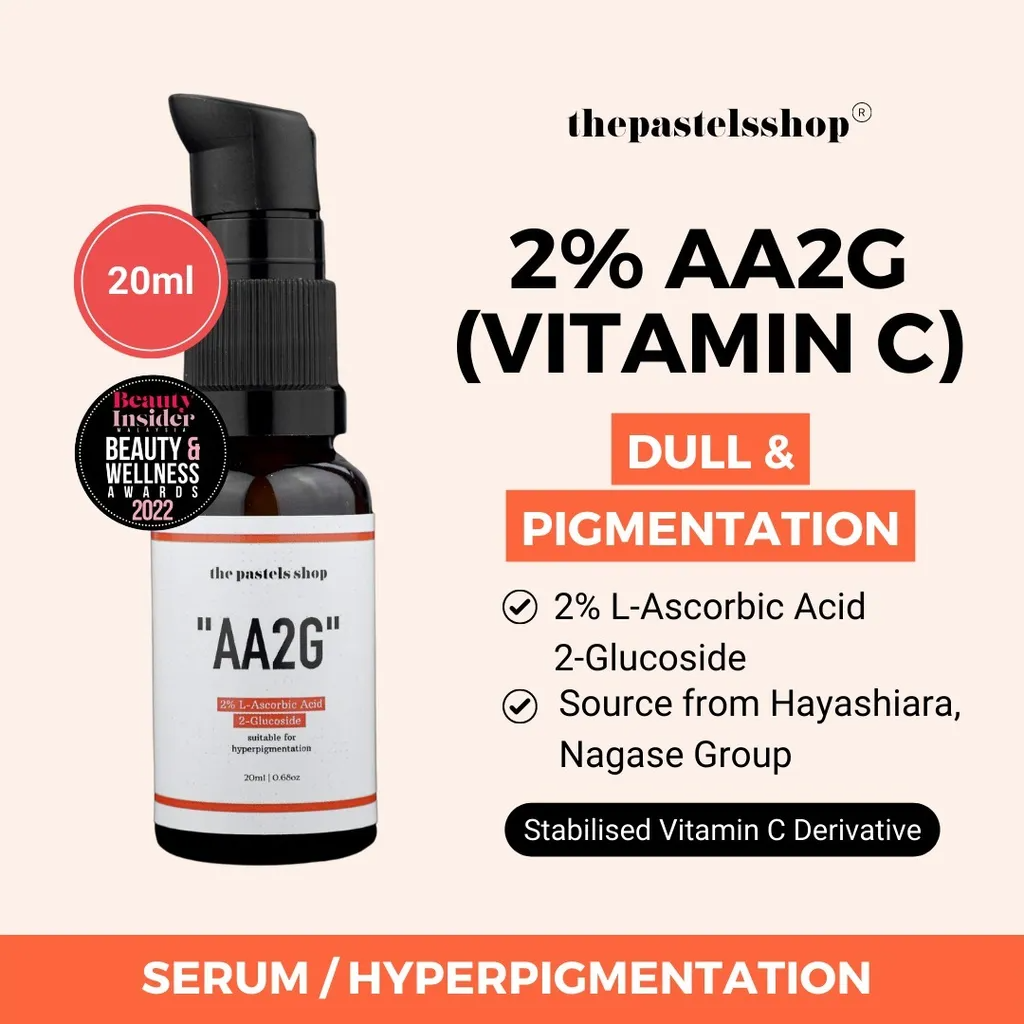 Introducing THE PASTELS SHOP "AA2G" HTS Serum 20ml – Your Daily Dose of Radiance and Skin Vitality. AA2G 2% HTS Serum is a time-released stabilized Vitamin C in a gel formulation and gentle enough for daily use.
Fungal Acne Safe
Pregnancy Safe
Minimal Ingredients
Silicone-Free
Alcohol-Free
Suitable For Sensitive Skin
Elevate your skincare routine to new heights with THE PASTELS SHOP "AA2G" HTS Serum. This 20ml powerhouse serum is formulated with advanced skincare technology to deliver the benefits of Vitamin C in its most stable form, promising a brighter, more youthful complexion. Unlock the secret to radiant, revitalized skin with every drop.
Key Features:
Vitamin C Efficacy: Our serum contains the advanced Vitamin C derivative AA2G (Ascorbyl Glucoside), renowned for its stability and ability to brighten skin, reduce the appearance of dark spots, and promote a more even skin tone.
Powerful Antioxidant Protection: Vitamin C is a potent antioxidant that helps protect your skin from free radicals, environmental damage, and premature aging caused by UV rays and pollution.
Radiant Complexion: Enjoy a brighter and more luminous complexion as the serum works to fade the look of hyperpigmentation, dark spots, and uneven skin tone.
Hydrating and Nourishing: Formulated with hydrating ingredients, this serum also replenishes moisture, leaving your skin feeling soft, supple, and revitalized.
Lightweight Texture: The serum has a lightweight, non-greasy texture that absorbs quickly, making it suitable for all skin types, including oily and combination skin.
Versatile Application: Use it daily as part of your morning or evening skincare routine. Apply a few drops after cleansing and toning and before moisturizing.
Cruelty-Free: We prioritize ethical beauty practices, and our serum is cruelty-free, ensuring no harm to animals during its production.