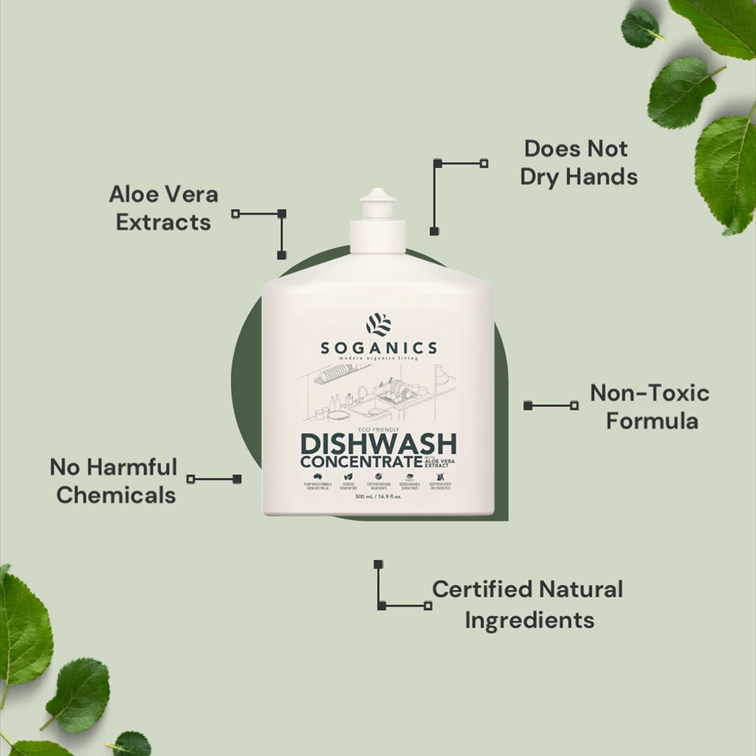 Washes away grease from your dishes without drying out your hands.

Soganics Dishwashing Liquid Concentrate is your solution to dry hands caused by doing dishes. Thoughtfully formulated with aloe vera extracts, its unique moisturising properties do not leave your hands dry like conventional dishwash soaps do. Although developed using only natural ingredients, it dissolves grease on dishes effectively, leaving them sparkling clean.
Plant Based Formula from Australia
Sourced from Nature
Non Toxic – No Chlorine, No Ammonia
Readily Biodegradable Surfactants
Certified Natural Ingredients
Vegan & Cruelty Free
Instructions:
Simply squeeze the liquid onto soaked sponge and clean dish as usual then rinse with water.
Ingredients:
Water (Aqua), Sodium Lauryl Ether Sulfate (Not SLS Aka Sodium Lauryl Sulphate. Our SLES is Based On RSPO Certified Sustainable, Preservative Free, And Readily Biodegradable Palm Kernel Oil), Sodium Chloride (Table Salt), Cocamidopropyl Betaine (Derived From Coconut Oil -Readily Biodegradable, Kosher/Halal Approved), Fragrance (Tetramethyl Acetyloctahydronaphthaleses, 4-Tert-Butylcyclohexyl Acetate, Herbal Propionate, Phenethyl Alcohol, Hexyl Salicylate; All Non-Toxic, Non-Irritant And Animal Cruelty-Free), Methylchloroisothiazolinone & Methylisothiazolinone (VOC-Free), Tetrasodium Glutamate Diacetate (Naturally Derived & Renewable, ECOCERT, USDA Certified Biobased, Readily Biodegradable), Aloe Barbadensis Leaf Juice (Preservative-Free) & Potassium Sorbate & Sodium Benzoate (ECOCERT Food-Grade), Citric Acid (Kosher/Halal Approved).

Made Without:
Chlorine, Ammonia, Formaldehyde, Paraben, SLS/SLES, Dye, Animal Derived Ingredients, Animal Testing

The Good Stuff:
Soganics products are made with readily biodegradable ingredients/surfactants that are greywater and septic safe, making it more eco-sustainable and safer for the environment.

This brand and product is registered/certified with the following organisations:
Leaping Bunny Program
Good Manufacturing Practice (GMP)
Roundtable on Sustainable Palm Oil (RSPO)

certified in ingredients sourcing