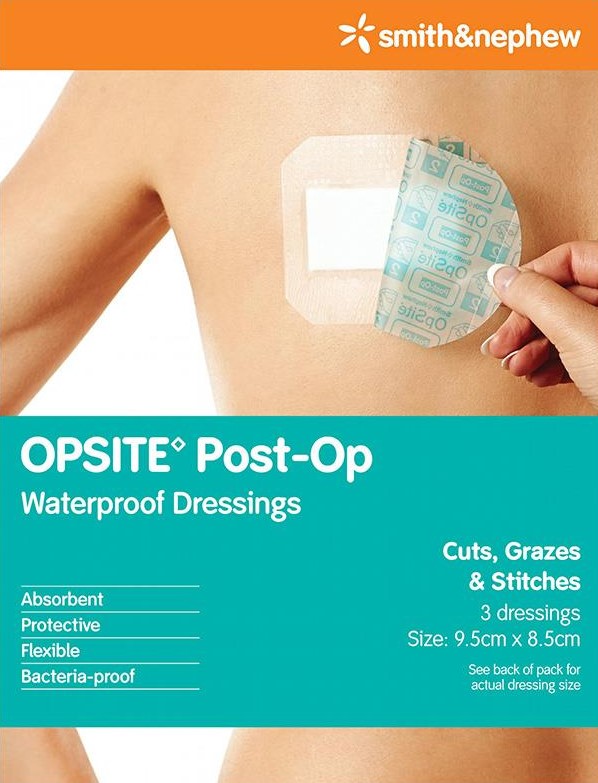 OPSITE Post-Op has a clear waterproof, breathable and bacteria-proof adhesive film with an absorbent pad that promotes moist wound healing.
Evidence shows that a wound that is kept moist heals faster. The film used in OPSITE◊ Post-Op promotes this moist healing approach as it controls the moisture on the surface of the wound by adjusting its breathability, thus, maintaining an optimal moisture level.
What Opsite Post-Op is used for?
- Cuts
- Grazes
- Stitches
- Minor burns
Opsite Post-Op offers the following advantages:
Bacterial Barrier - Protects the site against contamination, reducing the risk of infection by bacteria.
Waterproof film - You can shower with the dressing on. Take care not to immerse or saturate the dressing.
Low Allergy Adhesive - A unique grid pattern adhesive minimising the risk of an allergic response.
Highly Absorbent Pad - Rapidly absorbs wound fluid. Allows lateral spread across the pad to maximise absorbency and reduce the risk of skin problems under the dressing.
Low Adherence - The wound contact layer enables wound fluid to pass through to allow minimal trauma on removal.
Comfortable - Comfortable to wear and should not interfere with daily activites.
Round corners & thin film - Reduces occurrence of lifting or snagging, helping the dressing to stay in place for longer.
Applications:
1. Wash hands before and after treating wound. Gently clean wound and surrounding skin.
2. Remove backing paper. Lightly apply OPSITE◊ Post-Op dressing to wound. Press dressing around pad with fingers to seal.
3. Remove the clear printed cover on top of dressing to reveal film
When to change?
The dressing should be changed if leakage occurs or if the dressing lifts allowing access to bacteria and water.
Dressing Removal
To remove OPSITE◊ Post-Op, lift one corner and slowly stretch film outwards from the pad. Repeat with the remaining corners so the dressing will then lift easily.