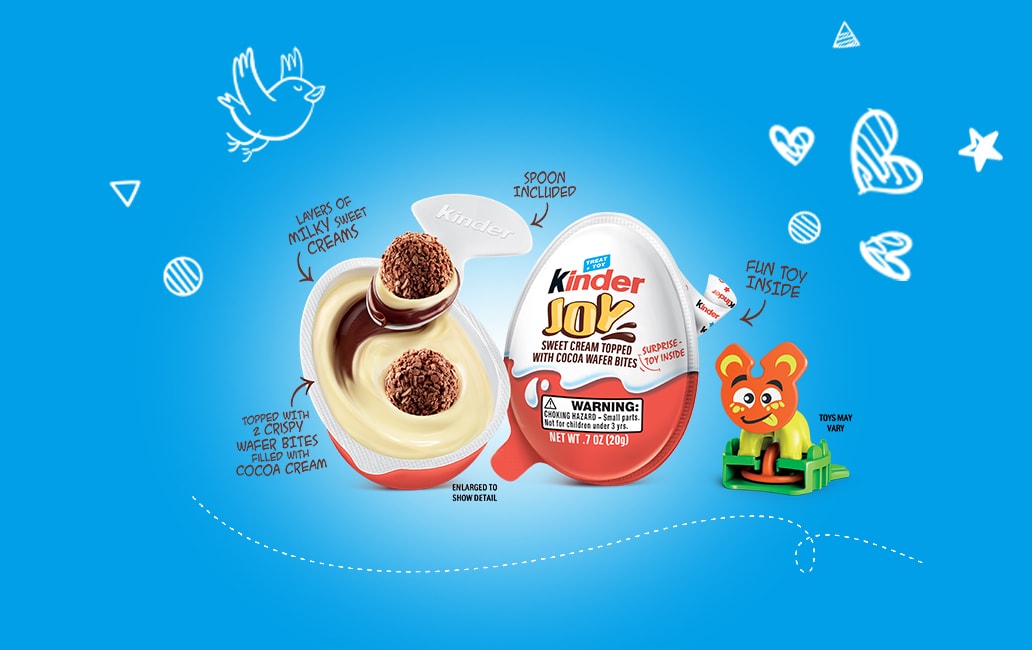 Kinder Joy: A delightful discovery
The novel design combines the tastiness of milky and cocoa cream in a sealed package, with the toy in a separate compartment.
CRISPY COCOA SPECIALTIES ON MILKY AND COCOA CREAMS PLUS A SURPRISE TOY
INGREDIENTS: SUGAR, VEGETABLE FATS: PALM; SAL, SKIMMED MILK POWDER 19.5%, FAT-REDUCED COCOA POWDER 4%, WHEAT FLOUR, TOASTED WHEAT GERM, WHEAT STARCH, POWDERED BARLEY MALT EXTRACT, EMULSIFIER: LECITHIN (SOY), WHEY POWDER, VEGETABLE OIL (SUNFLOWER), FLAVOURINGS, RAISING AGENTS: AMMONIUM BICARBONATE; SODIUM BICARBONATE, SALT.

ALLERGEN INFORMATION: CONTAINS MILK, WHEAT, BARLEY, SOY.

CONTAINS EMULSIFIER AND STABILIZER AS PERMITTED FOOD CONDITIONERS AND PERMITTED FLAVOURING SUBSTANCES.