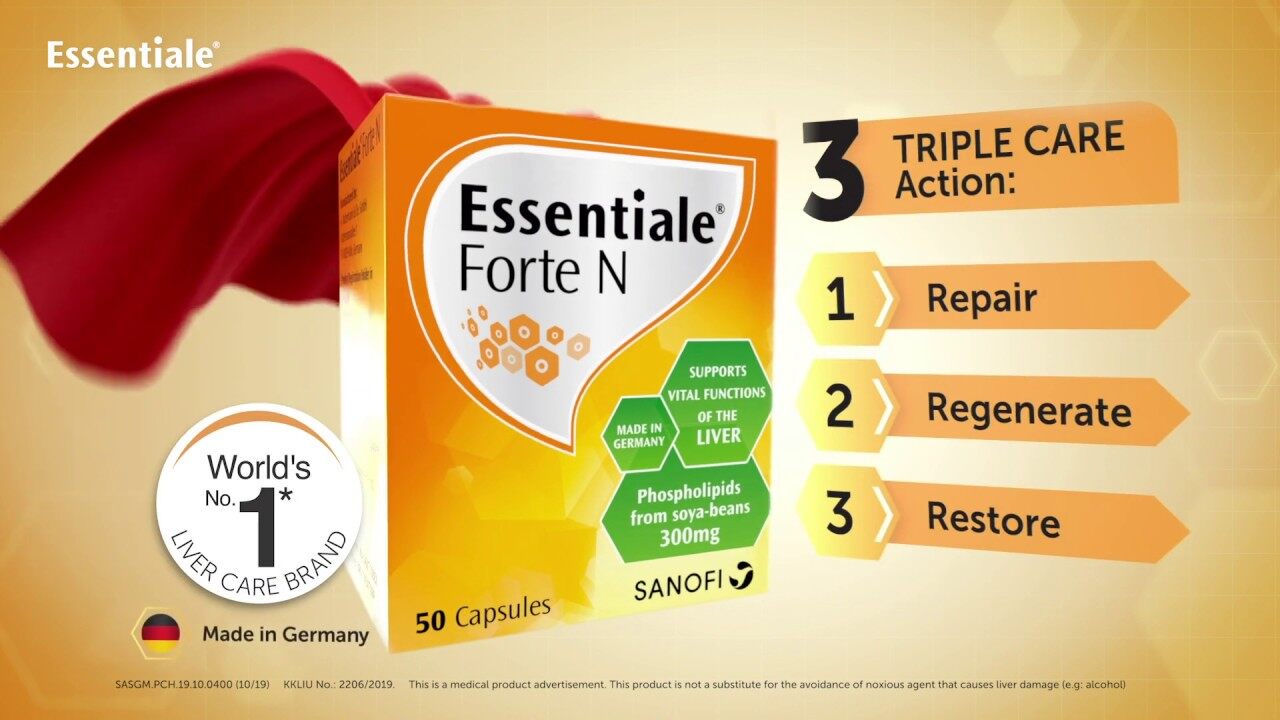 What is Essentiale?
Essentiale is a preparation of 300mg of essential phospholipids (EPLs) derived from soya beans.
What are phospholipids?
Phospholipids are the building blocks of the liver cell membrane. They are a class of lipids (fats) that serve an extremely important function in our body.
The cell membrane is made up of two-layer of phospholipids as its basic framework. It protects the important elements inside the cell from the outside environment and controls what goes in and out of the cell.
When the cell membrane is damaged, the function of the cell is weakened. Severe cell membrane damage may lead to cell death.
Essentiale contains 300 mg of essential phospholipids (EPLs) that work by replacing and regenerating the phospholipids in our liver cell membranes which are damaged by unhealthy lifestyle of eating fatty foods and drinking too much alcohol or by intake of too much medication or by infection from certain viruses.
Essentials Forte N Benefits :
- Essentiale forte N contains phospholipids from the soybean seed and as a herbal remedy is used to relieve symptoms of liver disease.
- This drug relieves symptoms of liver damage / disorders, such as: pain in the right upper abdomen and loss of appetite.
- It is particularly effective in patients who have toxic liver damage (due to the presence of harmful substances in the body, for example, drugs) or nutrition-associated liver damage (damage which occurs due to poor diet) as well as in chronic inflammation of the liver (hepatitis).
Dosage:
- The recommended dose in adult patients 2 capsule three times a day.
- Swallow the capsules whole with a meal. Take this medicine if your doctor has recommended it.
Precaution:
Essentiale Forte N should not be used in patients who are allergic to soy or peanuts.