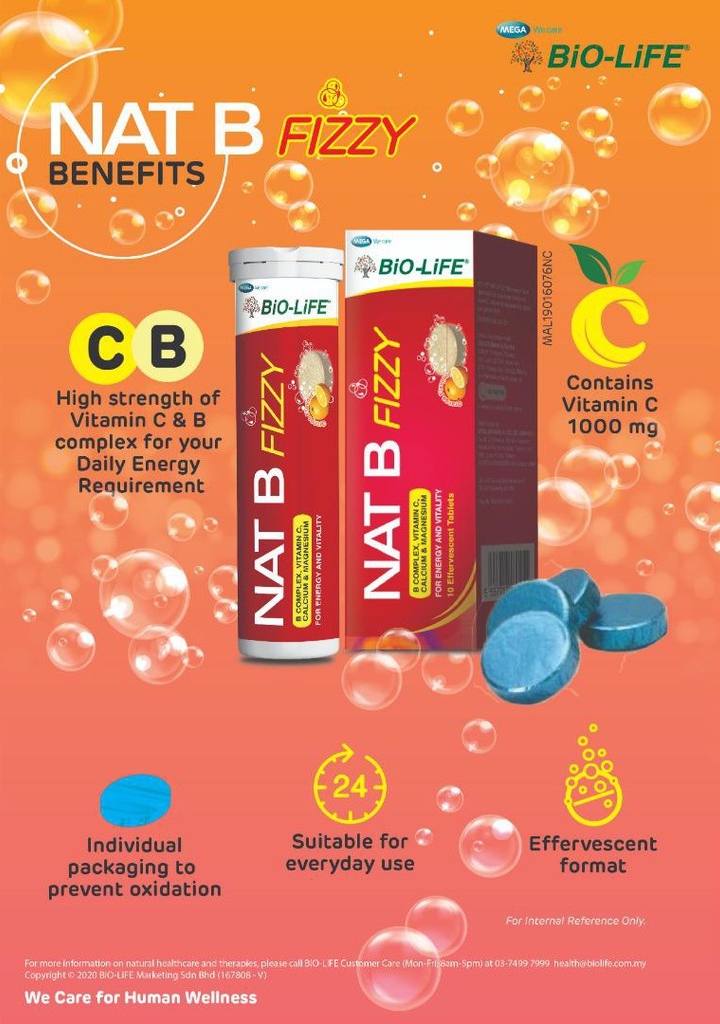 Nat B Fizzy contains high strength of vitamin Bs and C that replenish the daily nutrient requirement in effervescent form.
How does Nat B Fizzy help in supporting optimal health?
Vitamin B1 converts carbohydrates, fats, and proteins into energy.
Vitamin B2 releases energy from carbohydrates, fats, proteins and stimulates growth.
Vitamin B3 helps the body in utilization of energy from food.
Vitamin B5 helps to metabolize fats and carbohydrates.
Vitamin B6 participates in red blood cell formation.
Vitamin B12 aids in red blood cell formation.
Biotin breaks down carbohydrates, fats, and proteins into energy.
Vitamin C aids in the synthesis of collagen, absorption of iron and free radical scavenging.
Calcium aids in the development of strong bones and teeth.
Magnesium promotes development and maintenance of bones.
Who is recommended to take Nat B Fizzy?
Active students who aged 15 years old and above
Those who have a busy and stressful lifestyle individual
Young adult
What is the recommended dosage?
Adults: 1 effervescent tablet dissolved in a glass of water after breakfast meal.
Children under 15 years old should consult a healthcare professional before taking this product.
Ingredients:
Vitamin B1 (as Thiamine Mononitrate) 15mg
Vitamin B2 (as Riboflavin Sodium Phosphate) 15mg
Vitamin B3 (as Nicotinamide) 50mg
Vitamin B5 (as Calcium D-pantothenate) 23mg
Vitamin B6 (as Pyridoxine Hydrochloride) 10mg
Biotin 0.15mg
Vitamin B12 (as Cyanocobalamin) 0.01mg
Vitamin C (as Ascorbic Acid) 1000mg
Calcium (as Calcium Carbonate) 100mg
Magnesium (as Magnesium Hydroxide) 100mg
Individual packaging to prevent oxidation
Suitable for everyday use
Convenient packaging to bring along everywhere