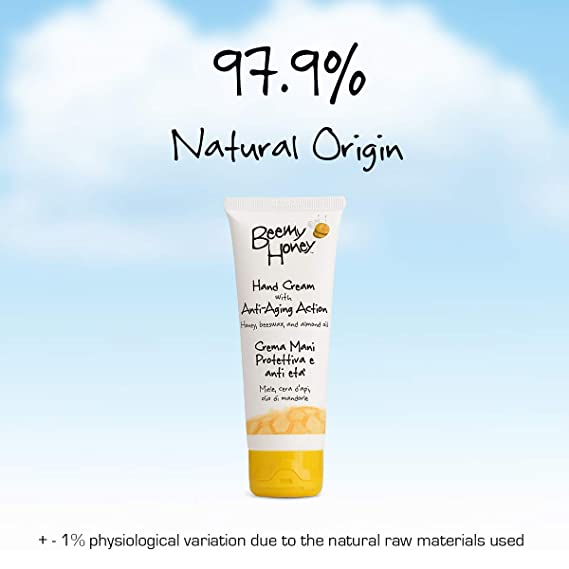 Rich emulsion for a real anti-ageing protection and nourishment.

It gives an immediate relief to the skin of the hands from dryness, cracking and loss of elasticity.

Its exclusive formula combines a smoothing, moisturizing and recompacting action with the prevention of signs of aging and gives silkiness, softness and prolonged comfort.

NATURALLY NOURISHING – BeeMy Honey moisturizing hand cream is enriched with honey, nourishing and protective beeswax, vegetable linseed, almond oil, and glycyrrhetinic acid (licorice root extract). These anti-aging components help to prevent dryness and chapping, all while restoring skin's softness and ensuring long-lasting relief.
SUBTLE NATURAL HONEY AROMA – The light, natural honey fragrance adds just the right amount of subtle scent. Not overpowering, the wonderful scent of honey is just an added benefit to the nourishing powers of the hand lotion.
THOUGHTFULLY FORMULATED – BeeMy Honey Hand Cream with Anti-Aging Action is hypoallergenic, dermatologist tested and made with ingredients of 97.9% natural origin that are free of parabens, silicones, mineral oils, SLS/SLES, PEG, PPG, and coloring agents. It is formulated using only the purest ingredients and the highest natural origin for each component, all while restricting the use of synthetic ingredients.
USE DAY AND NIGHT – From the chapped skin of winter to the dry sun-soaked skin of summer, BeeMy Honey Hand Cream can restore your skin and leave it feeling soft and nourished. Your whole hive can enjoy the moisture-rich feeling of soft hands hours after application -- both day and night.
MADE IN ITALY – From the rugged Amalfi Coast to breathtaking Lake Como to the artistic wonders of Florence to the romantic canals of Venice, Italy is known for its passion, vitality, and luxurious products. BeeMy Honey Hand Cream brings the indulgence of 100% Italian-made products right to your home, at an affordable price.