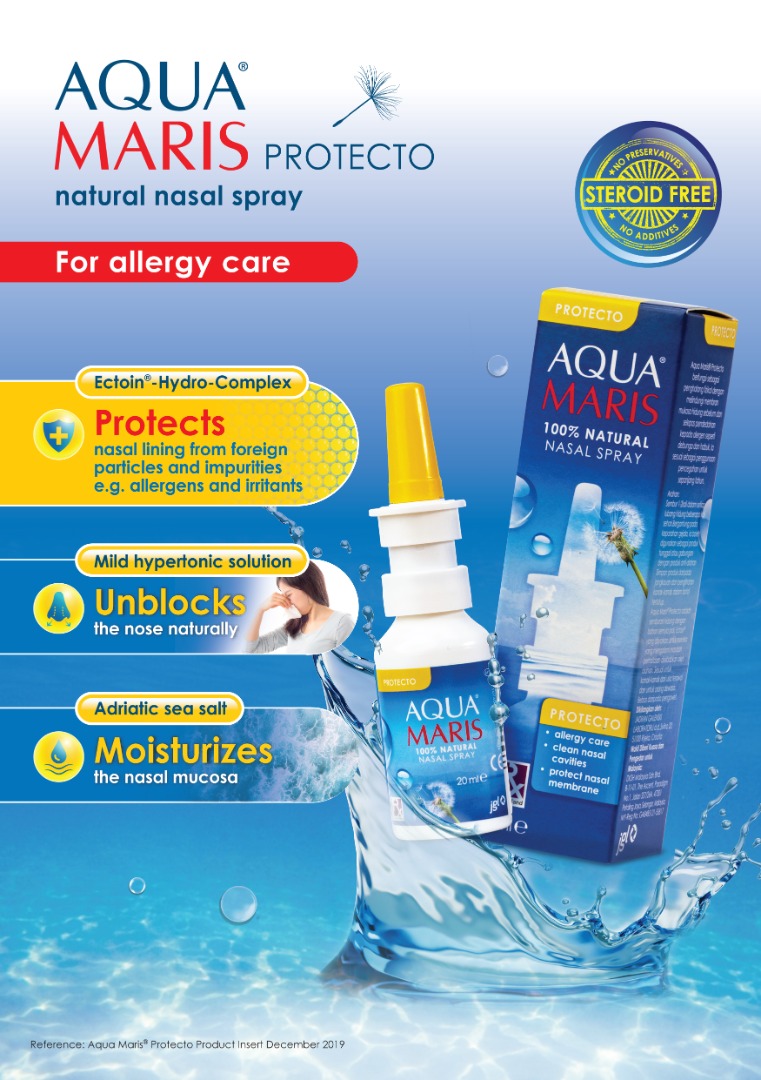 Aqua Maris® Protecto is a natural nasal spray with a new mode of action which relieves allergy symptoms and supports the regeneration process of the nasal mucosa. Aqua Maris® Protecto acts like a physical barrier protecting of nasal mucosa membranes before and after exposure to allergens such as pollen and dust. It is suitable for preventative use throughout the year.

Composition: 100% natural ingredient: Ectoin® 2%, sea salt and purified water

Aqua Maris® Protecto Nasal Spray contains unique cell-protective molecule with inflammation-reducing properties – Ectoin. 100% natural ingredient, ectoin is obtained from microorganisms (extremophiles) that live under extremely hostile environments. To protect themselves against the environmental stresses, extremophiles produce ectoin.

Ectoin is an amino acid derivative with strongly kosmotropic (water structure forming) and biomolecule- stabilizing properties. It protects and stabilizes membranes through the formation of a protective film Ectoin®-Hydro-Complex on the nasal mucosa which prevents contact of allergens with the cells and thus reduces the allergen-induced hypersensitivity response. In this way, allergens can be effectively detained from the nasal epithelium and removed more easily through nose blowing.


Aqua Maris® Protecto Nasal Spray is recommended for:
Symptomatic treatment of allergic rhinitis (alleviates allergic symptoms such as itchy and runny nose, sneezing and nasal congestion).
Care and protection of the nasal epithelium during increased exposure to pollen, house-dust or other airborne particulates. Reduces harmful influences of allergens on irritated mucosa; also suitable for preventive use.
Usual period of application is during allergy season as well as before and after exposure to airborne particulate matter during off-season.

Directions to use:
Spray 1-2 puffs in each nostril several times a day. It can be used independently or in combination with other anti-allergy products.
Since Aqua Maris® Protecto Nasal Spray supports physiological condition of the mucous membrane and does not have any systemic effect, it can harmlessly be used by both children and adults, and it is even suitable for the most sensitive patients.
Aqua Maris® Protecto Nasal Spray provides an optimal and gentle dispersion which is evenly distributed in the nose and does not cause any inconvenience.
Without preservatives and additives.