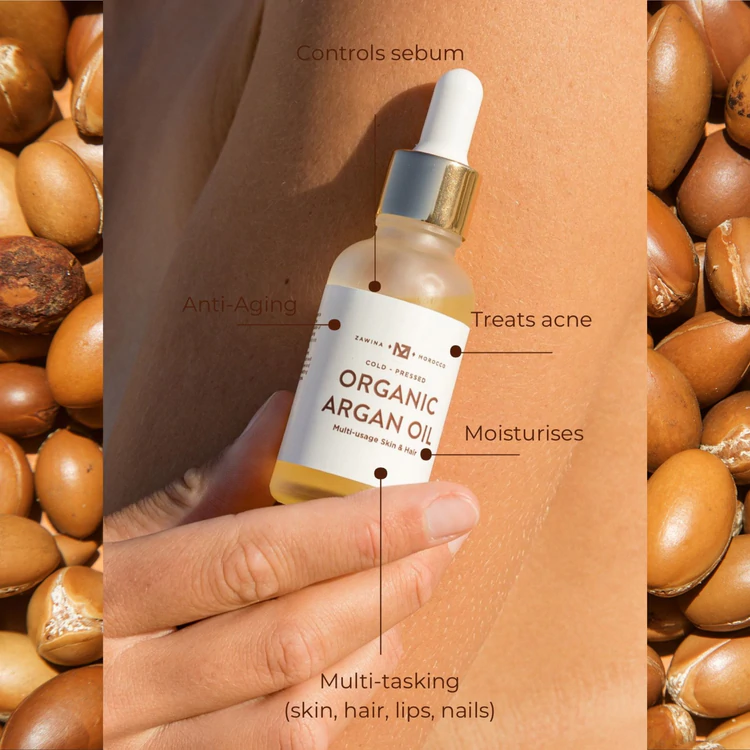 A multi-tasking face oil, 100% pure Moroccan Argan Seed Oil extracted through a cold-pressing that preserves the integrity of the oil's fatty acids and vitamins. It supports healthy skin and has balancing effect, meaning it moisturizes dry skin and reduces sebum for oily skin.

Properties: Anti-aging, Anti-inflammatory, Anti-bacterial.

Skin type: all skin types.

Also suitable for hair to reduce frizz and add extra shine.


APPLICATION

Skin moisturiser: Apply few drops of Argan Oil on your skin and gently massage your face and neck. Apply it on either slightly damp skin—to trap all that water in your pores—or massage it on over your moisturiser. It can be used day or night. The oil is non-comedogenic and very light. You can use it on all areas of the body.

Double cleansing: Argan Oil can melt away makeup and dissolve blackheads. It will do the hard job so you can follow up with a gentle cleanser afterwards and wash away the rest of impurities (instead of using makeup removers and harsh cleansers that can damage the skin barrier). Read more about this method on the blog.

It is safe to use during pregnancy and we recommend applying it on the belly and hips. Argan Oil increases skin's elasticity therefore will prevent formation of stretch marks during pregnancy.


INGREDIENTS
Argania Spinosa Kernel Oil, Certified Organic by ECOCERT.