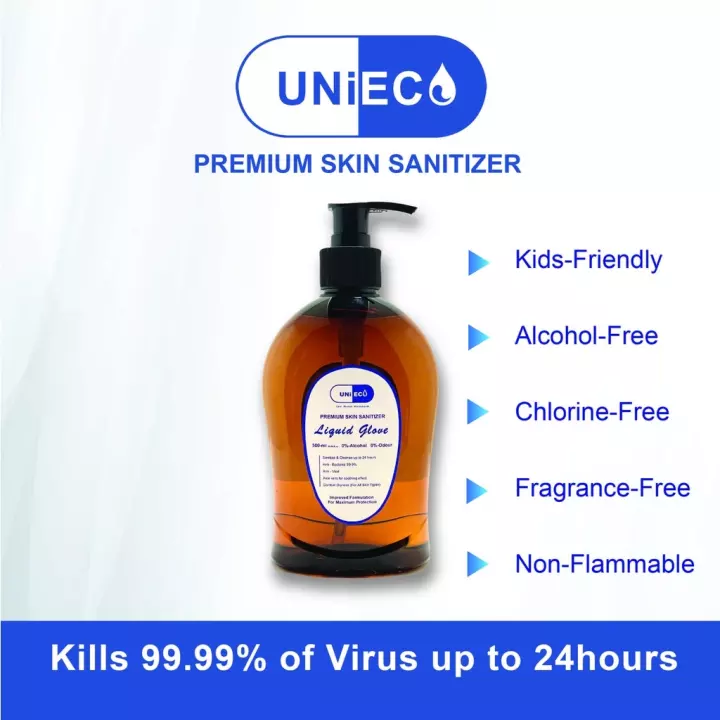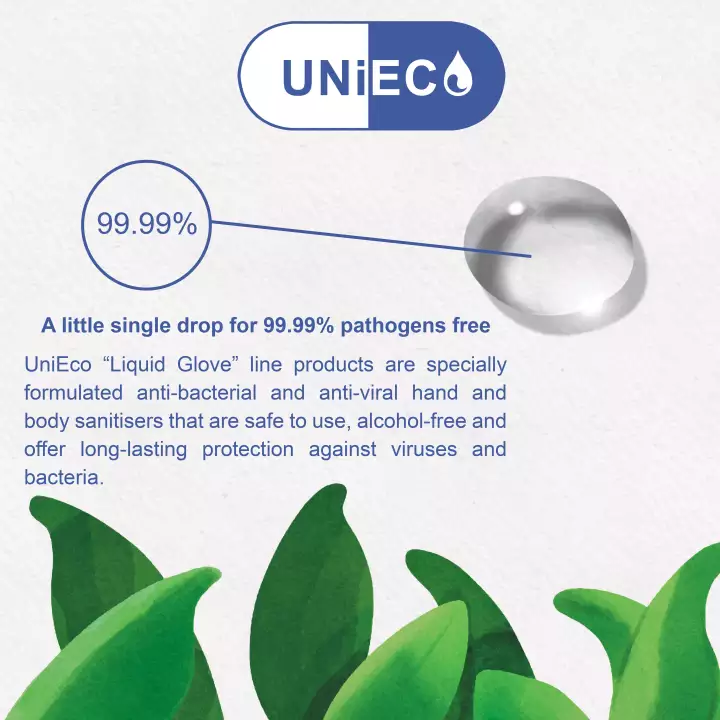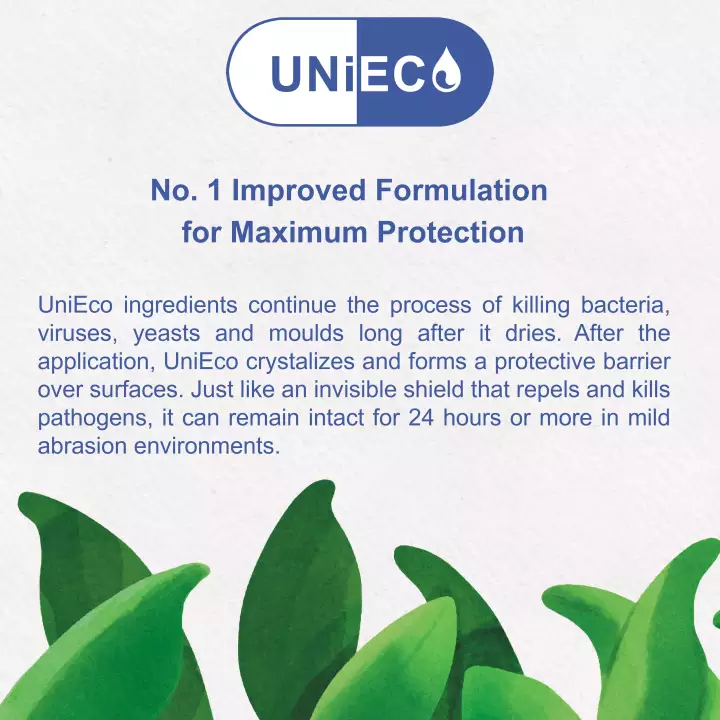 UniEco "Liquid Glove" line products are specially formulated anti-bacterial and anti-viral hand, body and surface sanitiser that are safe to use, alcohol-free and offer long-lasting protection against viruses and bacteria.
UniEco ingredients continue the process of killing 99.999% viruses, bacteria, yeasts, fungal and mould long after it dries. After the application, UniEco crystalizes and forms a protective barrier over surfaces. Just like an invisible shield that repels and kills pathogens, it can remain intact for more than 24 hours in mild abrasion environments.

Laboratory-Proven it can remain intact for 24 hours or more.
UniEco Improved Formulation for Maximum Protection more than 24 hours or days and kills 99.99% all kind of viruses, bacteria, fungi, moulds and yeasts.
Why UniEco?
Safer to Use - UniEco is a gel and water-based, alcohol-free disinfectant that is non-flammable. It is also colour and fragrance-free
Long Lasting Protection - Longer residual efficacy that can last for hours proven in lab tests.
Environmentally friendly - UniEco is green and harmless to the environment. No harmful chemical substances.
Effective against microbes - High anti-microbial efficacy - tested to be 99.999% effective against viruses, bacteria and yeasts.
Improved Formulation for Maximum Protection
Alcohol-free & Chlorine-free
Lab-tested
Long-lasting effect up to 24 hours
Moisturizes skin with Aloe Vera & No dry skin effect
Suitable for everyone and all business sectors
Enviroment-friendly and non-hazardous
Aloe Vera - the Magnificent Plant at the Core of UniEco products
One of the ingredients for the Unieco is Aloe Vera, it is a cactus-like plant that grows in desert regions around the world. Its leaves produce a gel that is rich in vitamins A, C, E, and B12.
Beneficial effects of applying aloe vera on the skin:
Reduces pain, swelling and soreness of wounds or injuries due to its anti-inflammatory properties
Supports the production and release of collagen
Speeds up wound healing time of first and second-degree burns
Effective in treating fungal and bacterial infections
Repairs sun damage and slows down the ageing process of the skin due to its antioxidant properties
Protects skin from the damaging effects of radiation therapy
Cooling effect on rashes or sunburns
Moisturizes soothes and hydrates skin