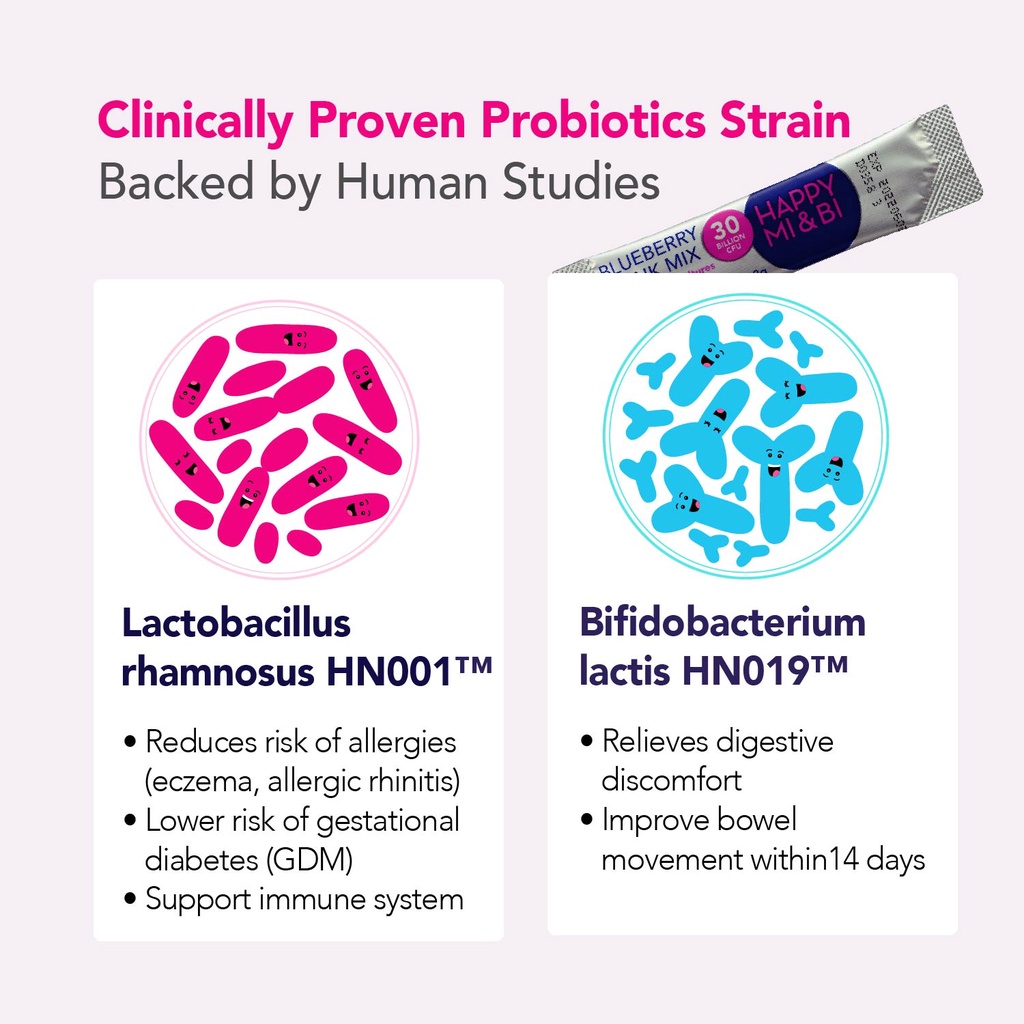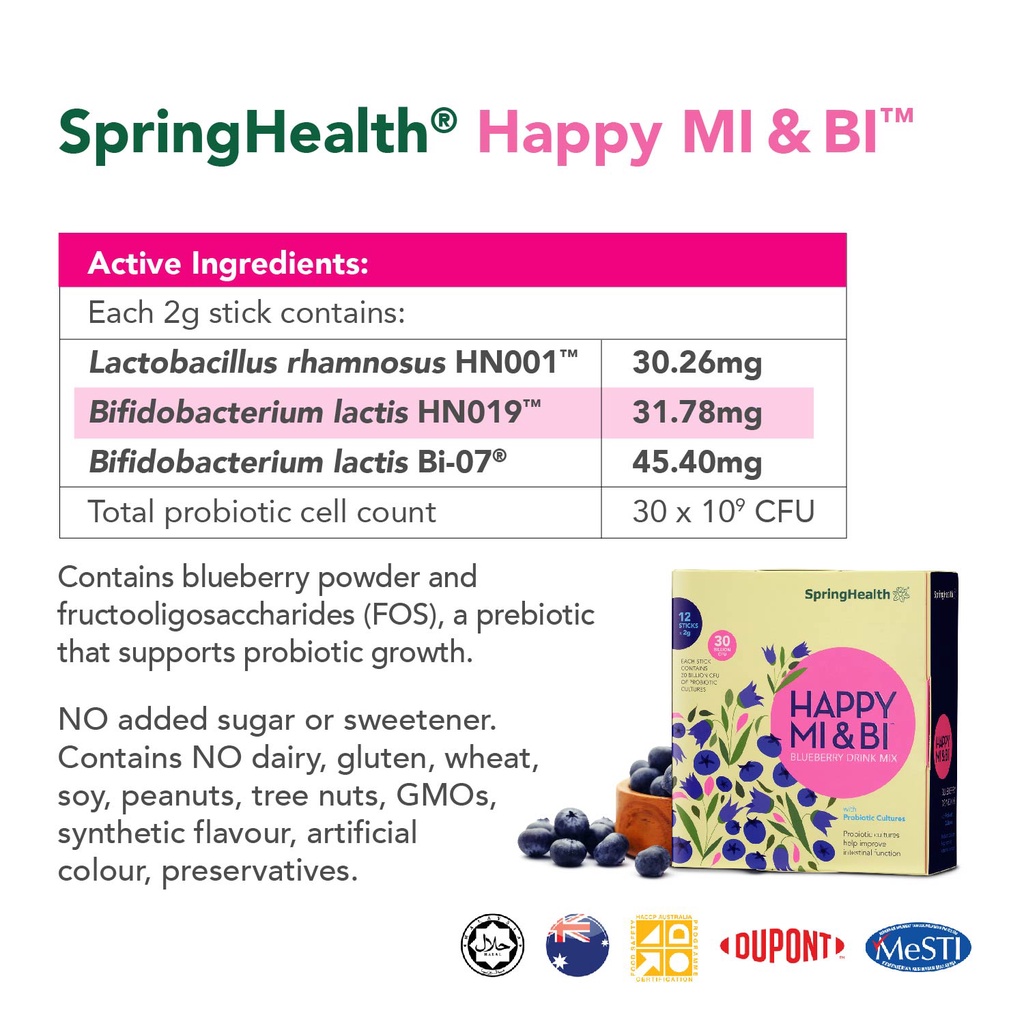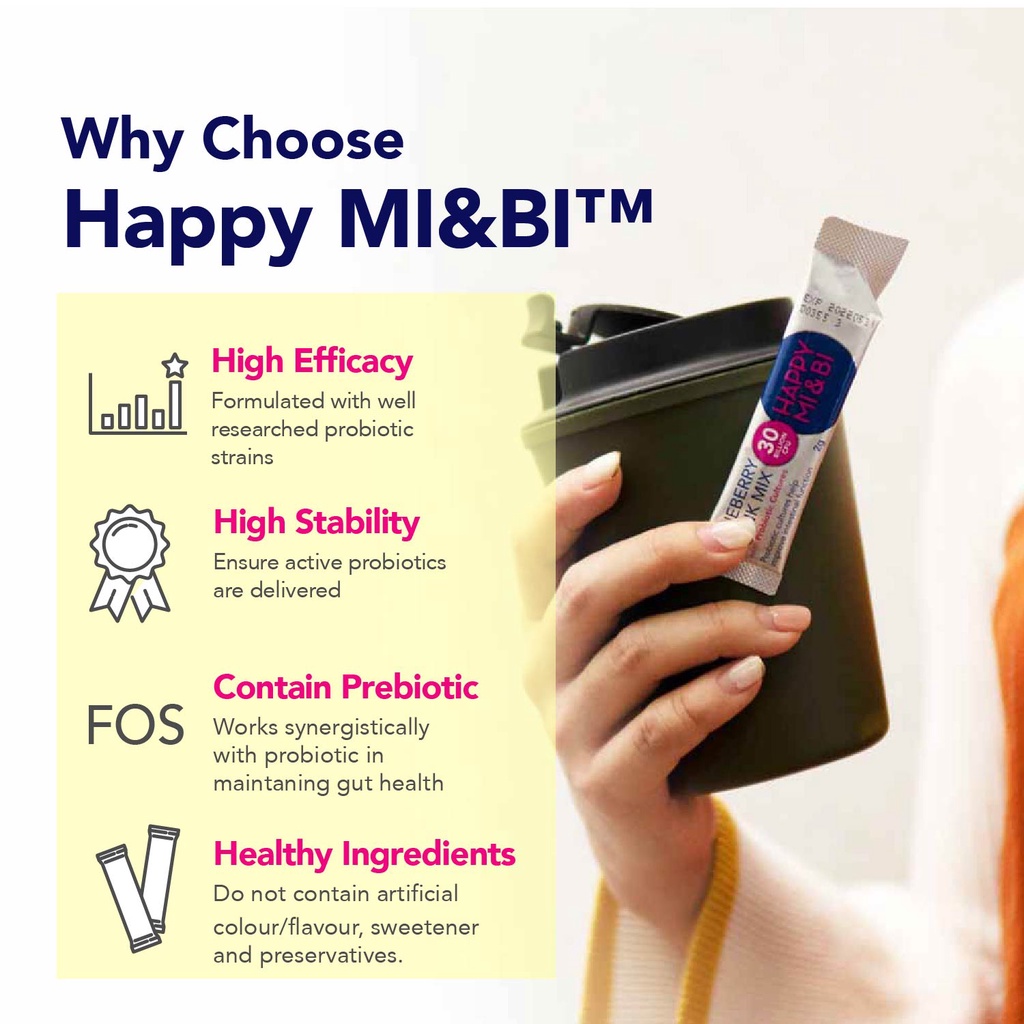 HAPPY MI & BI™ is a premium quality functional food combining probiotic strains (L. rhamnosus HN001™, B. lactis HN019™ and B. lactis Bi-07®) clinically proven to
– help reduce risk of allergies
– promote healthy immune and digestive functions
– support healthy mood.
INGREDIENTS :
Each 2g sachet contains:
Lactobacillus rhamnosus HN001™
Bifidobacterium lactis HN019™
Bifidobacterium lactis Bi-07®
Each stick contains 30 billion CFU of probiotic cultures Contains blueberry powder and fructooligosaccharides (FOS), a prebiotic that supports probiotic growth.
Happy MI&BI™ is Halal Certified and comes in natural blueberry flavour.
WHY HAPPY MI & BI™?
1) 30 Billion CFU : Each stick contains 30 billion CFU of beneficial probiotic cultures.
2) High Stability : Patented technology ensures perfectly active probiotics are delivered.
3) Healthy Ingredients : Do not contain artificial colour/flavour, sweetener & preservatives.
4) Contains Prebiotics : Formulated with FOS which works synergistically with probiotics.
5) High Efficacy : Formulated with probiotic strains with clinically proven efficacy.
6) Quality and Safety : Products are finished by DuPont, world leaders in probiotics science.
SUITABLE FOR:
- Pregnant Women
- Breastfeeding Mothers
- Infants (from 6 months) and children
- Anyone with/having family history of allergic conditions
- Those who want to have a balanced immune system
- Anyone with symptoms of digestive discomfort
DIRECTIONS FOR USE:
Babies ≥6 months – 1 stick once daily
Children ≥3 years/ Adults/ Pregnant mothers – 1 stick once or twice daily
Maintenance Dose – 1 stick on alternate days
SERVING SUGGESTION:
Can be taken directly or mixed in water or any beverage or sprinkled onto food.
STORAGE:
Store in cool, dry place below 25°C and keep away from sun exposure and moisture.
WARNINGS:
Not suitable for individuals with allergy to blueberries. Besides that, it is not suitable for G6PD deficient individuals as some studies on G6PD advised patients to avoid blueberries.
MADE IN AUSTRALIA